PASSION: The Formula
PASSION Sailing Cruises has been created in 2001 after more than 20 years sailing to offer anyone a sailing cruise far from home with total confidence.

A sailing cruise is a very serious matter. The equipment and the people have to be prepared for the challenge of the sea. We are initially sailors so we have the security and strictness inside us.
A personal selection of what we call 'a good yacht' has been set.
We meet regularly the yacht owners, crew and base managers. We know the yachts state and their maintenance.
We work regularly with the owners and companies for which we are serious dealers.
We can act efficiently to help you in case of a problem or a favour.
We collect various offers, analyse them for you and show them clearly and completely.
- No suprise on the spot, our prices show all the expenses you could face.
We help you in your choices because of our knowledge of the field.
You rent a cruise with crew
: These men and women are at the base of the success of your cruise.
- Simpler, more complete, for the same price and sometimes cheaper.
- You have security and a precious advice.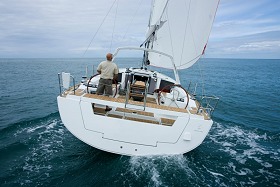 About Us :

For more than 40 years we have been sharing the exceptional way of living at sea with hundreds of people ; Along the annual 5000 miles performed every year with great success in the most attractive places in the world. I Personally collected a solid experience of the people's life on board of a yacht. My concern has always been to fit the cruise to the people's dreams